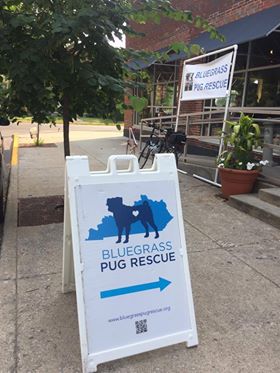 SEE HOW MUCH FUN WE HAD!!!!
FEEDER'S SUPPLY FEB 22, 2014
Our FIRST MEET-N-GREET!!!!
BRUCE THE PUG!!!!
He won $500 for Bluegrass Pug Rescue!
He collected 250 votes ($1 a vote) and the Barkery matched the donations.
THANK YOU!!!!
"Laissez Les Bon Temps Roulez"
"Let the Good Times Roll"
Thank you Bluegrass Barkery for Sponsoring the Mardi Paw Party! March 1, 2014
Thank you for hosting Lois and Rocco!!!
Kentucky Flea Market - Louisville, Kentucky - Labor Day Weekend 2014
THE VADER!!!! (That's me!)
I'm just chill-laxing after my big day yesterday. I went to East Point Veterinary Center and saw Dr. Tooke and their wonderful staff. They treated me like a real king! I got 4 teeth pulled and got "fixed" (I still don't get it, not a clue what was broken...).
Anyway, I'm feelin' fine and I'm ready to get out an have some fun! Some of my pug buddies and I (and my pals from Bluegrass Pug Rescue) are going to have a great weekend!!!! We have a booth at the Kentucky Flea Market (I hope I don't take any fleas home with me!!!). It's at the Kentucky Expo Center - 937 Phillips Lane - Louisville, KY 40209 (in case you want to google it or map it....). JUST COME!!!! It's free admission Fri 12-6, Sat 10-6, Sun 11-6, and Mon 10-5. And the best thing of all is THE VADER will be there! Come see me and maybe get a "paw-toe-gragh" or take a picture. But definitely get some PUG KISSES!!!!! Hope to see you there!

Pug Fair - Cincinnati, OH
Saturday, September 20, 11 - 3.
Red Dog Resort and Spa - 508 Madison Road - Cincinnati, OH 45227
Bark in The Park - Louisville, KY
A Benefit for Animal Care Society
Saturday, September 27, 8 - 3
Seneca Park - 3151 Pee Wee Reese Road, Louisville, KY 40207
Garden Gate Fruit Market and Deli - Louisville, KY
Meet and Greet - Come meet us and some of our Pugs available for adoption!
Saturday, October 18th --- 10 am - 2 pm